New Medicare Card Mail-Out Delayed

UPDATE: 
Medicare officials are delaying the mail out of the new Medicare cards to ramp up security measures and protect beneficiaries against fraud.
Beneficiaries living in Delaware, Washington, D.C., Maryland, Pennsylvania, Virginia and West Virginia will begin receiving their new Medicare ID cards in May, not April, which was the date originally scheduled.
"We are working on making our processes even better by using the highest levels of fraud protection when we mail new cards to current Medicare beneficiaries," said the Centers for Medicare and Medicaid Services.
Earlier this year, the CMS released a schedule for when the updated cards would be mailed out state-by-state. Congress ordered the schedule be redesigned to prevent fraud. 
The first wave of cards are being delayed by one month, but the rest of the schedule remains the same.
The cards will be mailed and will automatically transfer your coverage to your new Medicare number, your Medicare Beneficiary Identifier. New Medicare enrollees will automatically get the updated cards, regardless of where they live.
The anticipated mailing date for current Medicare Beneficiaries in Wisconsin will be after June 2018, and that is the same anticipated mailing date for Arkansas, Illinois, Indiana, Iowa, Kansas, Minnesota, Nebraska, North Dakota, Oklahoma and South Dakota.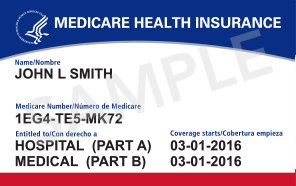 The new Medicare cards will still be red, white and blue, but they will not have Social Security numbers, gender, signatures or any other personal information that could compromise your identity. 
They will have your new Medicare number, which is a randomly assigned 11-character number that is unique to you; it will not be shared with anyone else without expressed permission.
There is no cost to receive your new card, and you do not need to call to activate your new card. Medicare will never ask you to give personal/private information to get your new Medicare number and card, so beware if you are contacted about your new Medicare card.
If you are a current Medicare beneficiary, check with the Social Security Administration to make sure they have your correct address. To check, you can connect with the SSA at ssa.gov/myaccount or call 800-772-1213. 
To stay updated as more information is released about this Medicare update, subscribe to our FHK VIP list, follow us on Facebook and check out our blog.